NEU ERSCHIENEN! // OUT NOW!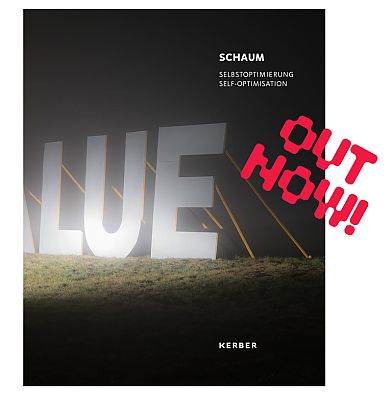 OUT

NOW

!
SCHAUM

– Selbstoptimierung
Seit 2009 agiert die Künstlergruppe SCHAUM in der Situation des Durchschnittsmenschen, an dem die gegenwärtigen Versuchsanordnungen für selbstoptimierende Prozesse durchgeführt werden. In Fotoserien, Skulpturen, Installationen und Performances werden sowohl die Probanden selbst als auch einzelne alltägliche Fundstücke zweckentfremdet, konzeptuell "missbraucht" sowie mit altmeisterlichen Allegorien und christlicher Ikonografie verwoben. SCHAUM ist "bereits unterwegs zu einer post-humanen Variation" des Mangelwesen Mensch, aus dem "ein künstliches Wesen werden [soll], ein Artefakt seiner selbst" (Jean-Pierre Wils).
Die Künstlergruppe SCHAUM arbeitet konzeptuell mit Fotografie, Malerei, Grafik, Objekt, Installation und Performance. Seit 2009 zahlreiche Auszeichnungen, institutionelle Einzelausstellungen und Werke in öffentlichen Sammlungen.
SCHAUM

– Self-Optimisation
Since 2009, the artist collective SCHAUM operates in lieu of the average person, upon which the experimental set-ups for the current processes of self-optimising are imposed. In photographic series, sculptures, installations, and performances the test subjects as well as simple found objects are alienated, conceptually "abused", and fused with old-masterly allegories and Christian iconography. SCHAUM are "already on their way to a post-human variation" of the defective human being, from which eventually "an artificial creature, an artefact of itself" (Jean-Pierre Wils) shall arise.
The artist collective SCHAUM works conceptually with photography, painting, graphic art, object, installation and performance. Since 2009, numerous awards, institutional exhibitions, and works in public collections.
Werkkatalog // Catalogue
published by KERBER
mit Texten von // with texts by
Jean-Pierre Wils, Anke Hervol, Michael Schoenholtz
21,5 × 27 cm
144 Pages, 108 colored illustrations
Hardcover
Deutsch, English
ISBN 978-3-7356-0718-8
35,- €
Zu bestellen über den KERBER Verlag oder im gut sortierten Buchhandel. // Order at KERBER Online or via your preferred book store.